Bull Shoals Lake is a water sports paradise. The clean waters attract fishermen, scuba divers, boaters, and swimmers during the long warm-weather season of north central Arkansas. With plenty of room for all, Bull Shoals Lake covers between 50,000 and 70,000 acres, depending upon the lake level. A hydroelectric dam at the town of Bull Shoals regulates the lake level.
The Arkansas Game and Fish Commission publishes weekly fishing reports.
Ozark Trout Tales: A Fishing Guide for the White River System by Steve Wright is a fine book about trout habitats in tail-waters of the White River dams. Included are interviews with some of the greatest guides and fishing instructors in Arkansas about their favorite fishing spots and fishing techniques. Also included are resource lists of guides, schools, and accommodations.
---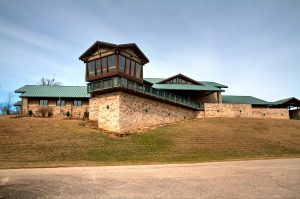 Arkansas' popular camping and fishing state park in north central Arkansas near Lakeview is Bull Shoals-White River State Park. This park offers visitors access to one of the nation's finest fishing and boating combinations, the renowned White River and Bull Shoals Lake, the State Parks.
One of mid-America's premier trout streams, the White River is famous for record rainbow and brown trout. A dam on the river forms 45,440-acre Bull Shoals Lake, popular for its lunker bass, crappie, catfish and trout fishing. Situated below the dam, Bull Shoals-White River State Park stretches along both the lakeshore and riverside.
The park has a spectacular setting in the scenic Ozark Mountains where the White River and Bull Shoals Lake meet at Bull Shoals Dam. Come discover why this state park has long been an Arkansas favorite.