There is no other river quite like the Buffalo River, our country's very first national river.
Rescued from conversion into a recreational lake in 1972, Congress preserved the free-flowing Buffalo River in its beauty and simplicity.It is now one of the few rivers in the United States that remains undammed.  Now managed by the National Park Service, the Buffalo is a float stream and a fishing stream that flows beneath limestone bluffs towering 400 feet tall.  The slower reaches of the river are always floatable and widen into tranquil pools, bordered by dense hardwoods and lush foliage. The Buffalo National River park covers nearly 95,730 acres.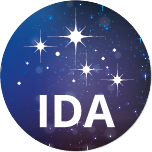 In early 2019, the Buffalo National River park was designated a Dark Sky Park by the International Dark-Sky Association (IDA), meaning it has one of the darkest skies in the world.  According to the official website for the organization, the "IDA, the recognized authority for night sky protection, works with governments, communities, and city planners to help reduce impacts to natural night skies where possible." The National Park Service made a concentrated effort to ensure the light pollution from the park resources do not affect the visibility of the night sky by installing automatic lights and making sure all park lights point straight down. For more information on the designation, check out the official Arkansas State website, the National Park Service's website, or the IDA official website.
When local fishermen want good smallmouth bass fishing, there's no better place than the Buffalo River. When Arkansas travelers want to fill their memory banks with nature's beauty, they, too, head for the Buffalo River. For specific information, contact the National Park Service.